Chemin de Fer Touristique du Haut Quercy "Le Truffadou"
Holiday trains
at Martel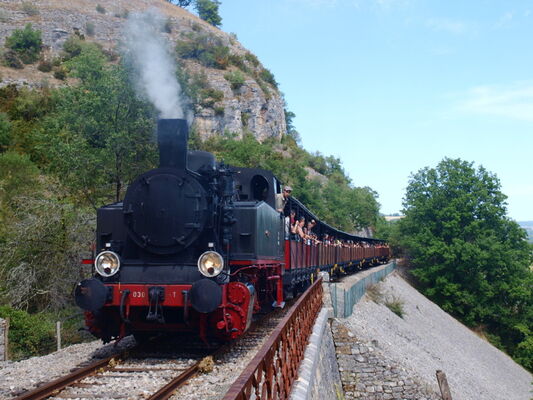 Truffadou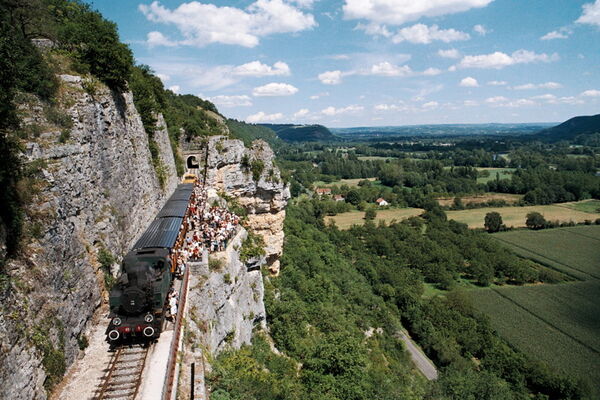 Truffadou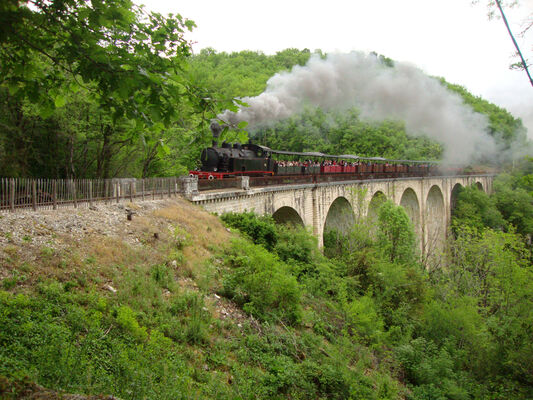 © CFTHQ
See the Dordogne Valley from the old railway line cut into the cliffs 80 metres above the river. All trips run between Martel and Saint Denis. According to days/times, either a magnificent steam locomotive or a powerful diesel engine will be at the head of the train, close to Martel station, to take you on a fantastic journey. A 13 km return trip, travelling 80 metres high along the cliffs to see the beautiful panorama over the Dordogne Valley unfold before you.

Spoken languages
Equipment

Services

Accessibility
Animals accepted

Bar/refreshment booth
Boutique
Guided visit single adult

From 8 € to 10,50 €

Children's price - guided tour

From 5 € to 6,50 €
Openings

From

April 1, 2019

until

June 30, 2019

From

July 1, 2019

until

August 31, 2019

From

September 1, 2019

until

September 30, 2019

From

October 21, 2019

until

November 3, 2019

* Horaires sur site internet et répondeur téléphonique.
Truffadou

© CFTHQ
Truffadou
Leave a review about Chemin De Fer Touristique Du Haut Quercy "le Truffadou" :
Bad

Average

Good

Very good

Excellent
Nous somme très ravi de notre balade avec ce petit train touristique

belle promenade et intéressante

par une très belle journée nous avons fait la ballade d'une heure de train à vapeur, très bon rapport qualité prix, beaucoup d'infos historiques intéressantes. beaux paysages. seule petite déception on ne voit pas beaucoup la Dordogne. bien organisé.

Très belle ballade avec de très beaux paysages

Paysage magnifique et expérience unique

une activité unique qui a ravie aussi bien les enfants que les parents. les organisateurs sont des passionnés et très accueillants

Une superbe balade en train à vapeur avec une équipe très sympathique qui vous explique bien les choses

Nous y sommes allés en 2013, mais nous allons y retourner. L'équipe de bénévoles est super sympa.

voyage commenté avec humour. des paysages magnifiques. à faire en famille

Joli voyage dans le temps

L'expérience du train à vapeur était vraiment intéressante. Le passage des tunnels au milieu de la fumée était impressionnant. Les paysages le sont moins mais la locomotive à elle seule fait le spectacle !

Très bon moment ,bien organisé

génial ,passez une bonne journée tunnel ,corniche ,aller comme retour sympa ,2 arrets pour vous restaurer

Une superbe balade à flanc de falaise pour découvrir ces merveilleux panoramas de la Vallée de la Dordogne. Le personnel est accueillant et passionné, un véritable retour dans le temps ! Dommage que seul le chef de gare soit en tenue d'époque avec son vélo, si tout le monde était comme ça on plongerait bien plus dans l'ambiance du début du XXè siècle !

nous avons fait la balade il y a 2 ans et nous en gardons un souvenir merveilleux.

Bravo et merci à l association qui oeuvre pour faire perdurer le rail dans ce magnifique coin terrasse au dessus de la Dordogne..

Super moment pour les petits comme pour les grands

trop chouette

Bon moment de détente, accueil convivial, explications intéressantes et vivantes. Un conseil : mettez vous si possible en tete de train dans les deux sens : a l'aller vous profiterez des courbes pour photographier la locomotive, au retour vous serez près de locomotive de sont tchouc tchouc et du mécano . Pour moi indispensable de choisir le train vapeur plutôt que le diesel !

Voyage a une autre epoque

Voyage en locomotive à vapeur permettant d'admirer de superbes paysages, à faire absolument

Encore un bon moment passé en famille avec cet aller-retour à flanc de falaise. Panoramas spectaculaires en cinémascope sur la Vallée de la Dordogne, belle locomotive à vapeur et un équipage qui vous met dans l'ambiance. N'oubliez pas pour autant de visiter le village médiéval de Martel, il est vraiment très beau et intéressant.